2295 Moscow eruption
VEI 3 eruption (USGS)


The volcano erupting

---

Volcano
Mt Putin
Date
December 25, 2295
Time
0720 WRST
Eruption type
Hawaiian fissure eruption
Location
Moscow, Russia
Fatalities
Damages
$ Unknown (2295 USD)
Other impacts
Heavy damage to methods of transport
On December 25, 2295, the first ever flat ground "volcano" erupted. Despite all volcanoes actually erupt from mountains, this one was the first to erupt from flat land. However, a mountain had formed and was named "Mount Putin," which is named after the 2012 Russian president Vladimir Putin.
Gallery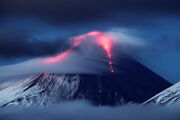 Here are some photos of "Mount Putin." (under construction)